AK is Aldo Kuonen
AK is our family
AK is our company
He was many things to us: friend, model, hero. But above all else, he stood for and epitomized for us the pure joy of skiing.
​Our father was a ski fanatic. From a childhood in the Vallais village Törbel, high above Visp, his love for the mountains was ingrained, infectious, inevitable. To follow his passion, he became a top ski instructor in St. Moritz, later joining Rossignol and Atomic. From an early age on, we were regaled with stories he shared with the likes of Joël Gaspoz, Michaela Figini, and Mike von Grünigen. Swiss ski legends, all of them teammates of his while at Rossignol. Yet how were we to know, at our young age? They were simply our father's friends, part of the family, sharing the same dreams he had.
​We were put on skis when we were 2 years old. Every winter weekend, our father would take us skiing somewhere, anywhere. Over the years growing up, we dare say there's no slope in Switzerland where we haven't skied together as a family. That was our childhood, defined by snow, growing up as a Kuonen.
Our father was a tinkerer. If he was not skiing, he was busy fixing and restoring old Porsches. His favorite was the Model 356, which he knew inside out almost as well as the back of his hand. If mum couldn't find us in the house, she knew that we were under a 356 with him, flashlight in hand, helping out however we could.
​The ski fanatic and the tinkerer: both in one man, our father. When the decision came to found AK, it seemed only the most natural thing to do, not just for him, but for the family as well. We saw it coming, in his passion for the slopes, in his passion for building with his own hands. It was inevitable. AK was born out of a simple thought, echoed repeatedly by our father throughout the previous years: "I can build World Cup-level skis for everyone."
​In 1997, we introduced our first carving skis, "Number ONE," with a circulation of 600 pairs. We still remember that first run: Aldo, beaming as he entered the living room, holding up the first production pair, a father cradling his newborn child.
​Over the next 15 years, our father expanded the company solely through his personal enthusiasm for AK. We never did any marketing; we never bought any ads. Our father would introduce the skis by bringing them to the retailers himself, taking pains to explain in person every feature, every reason for the design. And the minute people tried on our skis, they knew or more precisely, felt the immediate difference. It was and still is, marketing the most traditional way possible: seeing and believing.
​In September 2011, our father was diagnosed with a brain tumor. What followed were nine months of hope and fear, alternating one after the other. In June 2012, Aldo passed away; he was 60 years old. It was inconceivable we lost not only our father, but also our best friend, mentor, and idol.
His passion will always remain the benchmark against which we measure AK, even as we bring the brand into the future.
​Thank you Pa, for everything.
​Your spirit is ever-present.
Your philosophy continues to guide us.
Your dream, lives on.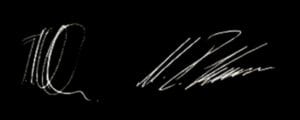 Your daughter and your son,
Francesca and Marco Kuonen